Upgrading to Windows 10 fails with error code 80240020
Today Win­dows 10 was fi­nally avail­able on my laptop. I star­ted the up­grade pro­cess but after a couple of minutes it said it had failed due to er­ror code 80240020—whatever that means.
I was brows­ing the In­ter­net and dis­covered a couple of things that you can do to solve this is­sue. I thought it might be use­ful to sum­mar­ize all tips that I found for any­one else in the same situ­ation.
By the way, you may also read the cor­res­pond­ing thread on the Mi­crosoft Com­munity web­site but at the time of writ­ing this blog post the thread is 58 pages long! You might be bet­ter off with one of the fol­low­ing op­tions. :-)
Option #1: Delete downloaded files and try again
The first tip that I found was to de­lete all down­loaded files and try again. It seems some­times the Win­dows 10 setup files are cor­rupt. You can de­lete them and force down­load­ing them again on the com­mand line. Here is what you need to do:
Open your Win­dows Ex­plorer
Go to C:\Windows\SoftwareDistribution\Download
De­lete all files in this folder. Don't be afraid, these are just tem­por­ary files that you can de­lete safely. Win­dows will down­load them again if ne­ces­sary.
Heads up: you might have to kill the pro­cess WindowsUpdateBox.exe in your task man­ager if the files are still in use and can­not be de­leted.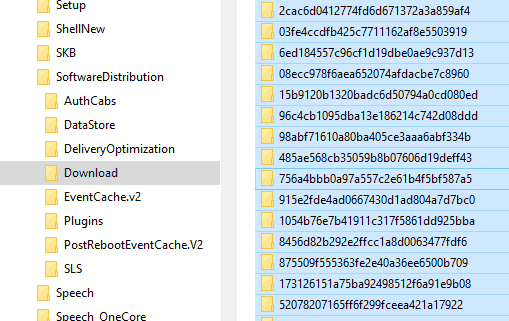 After this you have to force start­ing the up­date pro­cess on the com­mand line:
Launch your com­mand line as ad­min­is­trator. In or­der to do this open your start menu (Win­dows 7) or your start screen (Win­dows 8) and type cmd. Right-click the Com­mand prompt item and se­lect Run as ad­min­is­trator.
Enter wuauclt.exe /updatenow.

If you now go to your con­trol panel and se­lect Win­dows Up­date you should be able to to see that Win­dows 10 is be­ing down­loaded.
Option #2: Set secret registry key to enable Windows 10 upgrade
I tried Op­tion #1 but it still failed. Win­dows was be­ing down­loaded but when it reached 100% I still got the same er­ror code 80240020. I fi­nally found an­other tip that ac­tu­ally solved the prob­lem for me.
Press Win+R to open the Run dia­log. Type regedit and press Enter to start the Re­gistry Ed­itor.
Go to HKEY_LOCAL_MA­CHINE\­Soft­ware\­Mi­crosoft\­Win­dows\­Cur­rentVer­sion\­Win­dowsUp­date\­OSUp­grade
(If the key does not ex­ist cre­ate it)
Right-click the blank area in the right pane and se­lect New/​DWORD Value.
Enter AllowOSUpgrade and press Enter.
Double click the new item and set its value to 1.
Open your con­trol panel and check for up­dates.

Win­dows 10 up­grade should start im­me­di­ately. At least it worked in my case. You might have to re­start your com­puter if the up­date does not start right away.
I haven't tested this op­tion my­self but many users have re­por­ted that it has worked for them quite well. Just down­load the me­dia cre­ation tool provided by Mi­crosoft and fol­low the in­struc­tions.
http://www.microsoft.com/software-download/windows10
The tool will cre­ate a boot­able USB drive or DVD from which you can in­stall Win­dows.
Re­mem­ber: I haven't tested this op­tion my­self, so please use it on your own risk and do not blame me if any­thing goes wrong.
Option #4: Just wait
Yes. Just wait.
Ac­cord­ing to some people from the Mi­crosoft Com­munity web­site it's a vi­able solu­tion to just be pa­tient and wait a little bit longer (maybe a couple of days more). The prob­lem might go away by it­self. I can­not ex­plain how this is sup­posed to hap­pen but maybe Mi­crosoft will is­sue a patch to fix the up­grade pro­cess or the secret re­gistry key from Op­tion #2 is set auto­mat­ic­ally after some time. The lat­ter is more likely in my opin­ion. But I was just too im­pa­tient :-)
Summary
I hope these tips are use­ful for you. A quick com­ment be­low would be ap­pre­ci­ated. If you solved the is­sue in any other way please let us know.
Have fun with your new Win­dows!